Does it work?
Circles of Adults Research
Look at Educational Psychology in Practice Vol 27 No 1 March 2011 Sue Bennet and Jeremy Monsen: 'A critical appraisal of four approaches which support teachers' problem solving within educational settings.
In this paper the benefits of collaborative working with teachers and school staff to develop a critical understanding of psychological process underpinning their work are recognised but the authors call for more robust research and evidence.
So if you are reading this – get out there and do some more research! All our evaluations, and single case studies have shown the process to be robust, valid and effective at many levels.
Evaluating the outcomes of the 'Circles of Adults' intervention on adults supporting Looked After Children at risk of exclusion. DAppEdPsy thesis, University of Nottingham. J. Turner (2014) Click here to read in full.
Further very positive research validation for the Circle of Adults process is seen in EPIP Vol 36 2020 "Examining the Circle of Adults process for Children Looked After: the role of self-efficacy and empathy in staff behaviour change". Staff reported greater self efficacy, success implementing actions, enhanced group cohesion, task focus, insights, empathy and much more besides!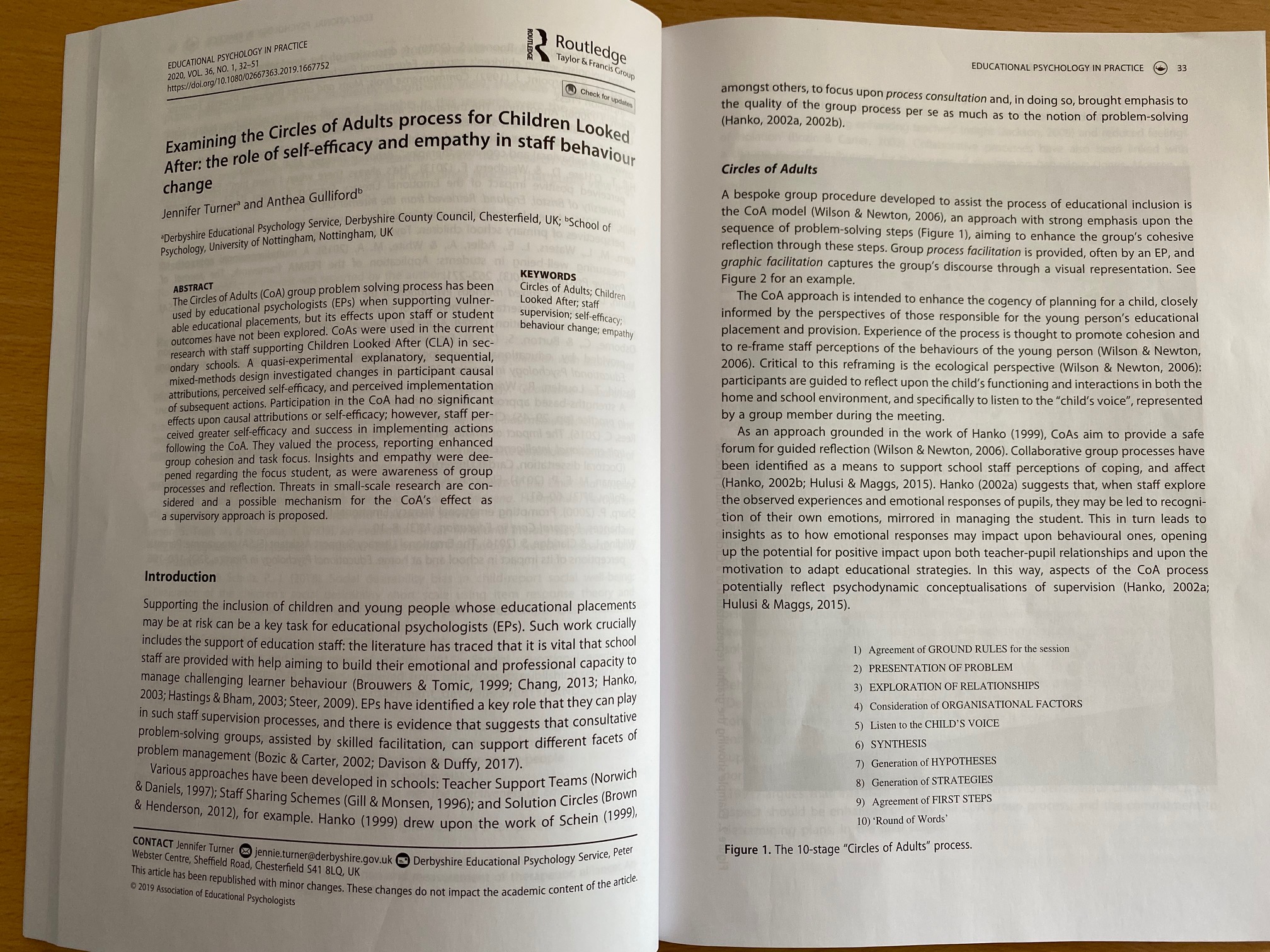 Circle of Adults in Scotland
Anita Harrison, Sarah Williams and Lois Braithwaite In June 2006, a number of East Lothian Education Provisions and other agencies involved in supporting children and young people with severe and complex needs were identified and invited to participate in the Circle of Adults project.
This project arose from a need to develop a consultation process for professionals working with children and young people with severe and complex needs. The book Circle of Adults – A team approach to problem solving around challenging behaviour and emotional needs (Wilson & Newton, 2006), emerged as an attractive model with potential for application in this situation. It combines many important features; graphic facilitation, group process and a structured and evaluated framework. The Circle of Adults approach is a 10-step problem-solving approach, with each step allocated a fixed amount of time. This model was designed for interventions requiring significant planning and given the cost in terms of time and resources it was decided that it would be for used with problems at the top end of the staged assessment and intervention process. The concept of working with staff in a group to maximise expertise and build capacity to create solutions was very appealing. During the period of September 2006 to December 2007 12 Circle of Adults sessions were held, approximately monthly.
Each Circle of Adults session was facilitated by two Educational Psychologists: one in the role of graphics facilitator, the other in the role of process facilitator. A number of methods were employed to evaluate the effectiveness of the project in meeting its initial aims with very positive outcomes.
Research on Circles: Educational Psychology in Practice 
For a link to the 'Educational Psychology in Practice: theory, research and practice in educational psychology' book, click here.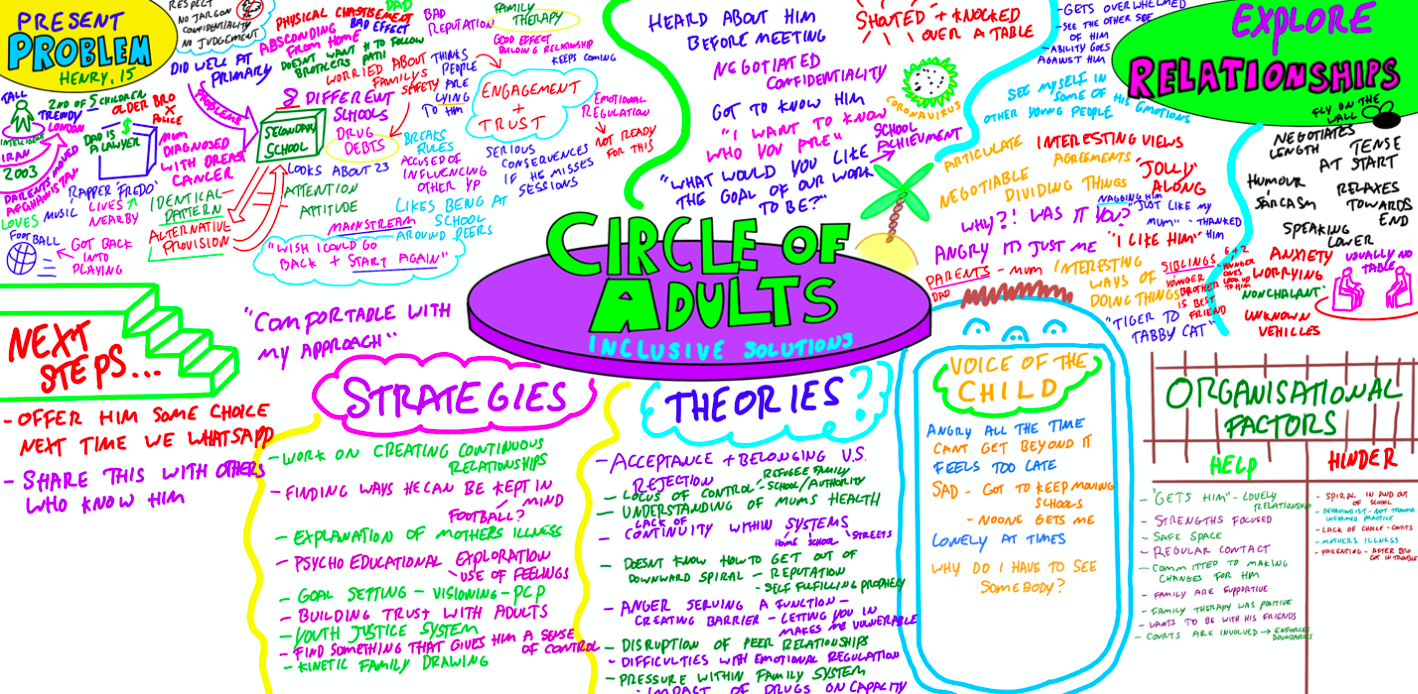 Complete and Continue